Unlocking Growth Potential: Embracing DAM over MAM
Why is DAM the preferred choice for growth companies and small to medium-sized businesses (SMBs) seeking a comprehensive solution for their digital asset management needs? Media Asset Management (MAM) and Digital Asset Management (DAM) are commonly used terms but differ in scope and capabilities.
Managing and organizing digital assets is crucial for businesses of all sizes. Everyone's managing an ever-growing library of digital assets like images, videos, audio files, etc. If you are reading this article, you are likely still determining which system you need. So let's look at why you should consider DAM over MAM.
Here are the subjects we'll cover:
1. Understanding the Difference Between MAM and DAM
3. The Preference for DAM in Growth Companies and SMBs
4. A Comprehensive and Adaptable Solution
5. Usability is Key to Success
Understanding the Difference Between MAM and DAM
MAM offers functionalities like cataloging, storing, and retrieving media assets, making it suitable for industries with heavy media-centric workflows like broadcasting and entertainment.
MAM primarily focuses on managing media file types:
Images
Videos
Audio
Animation
DAM systems manage a more comprehensive range of file types, searchable data, and file information. Beyond media files, DAM encompasses a broader range of digital assets, including:
Images
Videos
Design files
Presentations
3D formats
Spreadsheets
Text files
Data files
Audio
Animation
This broader scope allows businesses to centralize and efficiently manage assets and data in one comprehensive solution, achieving considerable time savings and less costly errors.

The Broad Offering of DAM
Most growing businesses and SMBs are looking for more than storage space. They want a platform that will optimize the use of their digital assets. Photos, videos, guides, etc., have high production values, so companies want to ensure return on investment (ROI). DAM is much more than storage with an offering that includes:
1. Centralized Asset Repository: DAM provides a centralized repository for all digital assets, regardless of type. This eliminates the need for multiple systems and scattered storage locations, making it easier for teams to access and manage assets efficiently. Businesses can ensure consistent branding and efficient asset utilization by having everything in one place.
2. Native Formatting Tools: to avoid storing duplicated assets, modern DAM systems offer a formatting tool that can be applied when a user downloads or publishes an image online. The system will also let you pre-define templates that transform photos with one click.
3. Metadata Management: DAM systems offer robust metadata management capabilities. Metadata, such as titles, descriptions, and keywords, helps categorize and organize assets, making them easily searchable. This feature lets users find the right assets quickly, saving time and effort. Effective metadata management contributes to improved collaboration and workflow efficiency.
4. Advanced Searchability & AI: The metadata and information added to assets power the intelligent search functionality that scans any text document for relevance. AI tags contribute another layer of automated tagging and retrieval. Any text or value included in or given to assets is time saved for internal and external users looking for content. On average, DAM cuts search time by 75%.
5. Workflow Automation: DAM systems streamline asset workflows through automation. Businesses can configure workflows for file conversions, content approvals, and distribution. Automated processes reduce manual effort, eliminate bottlenecks, and accelerate time-to-market. SMBs and growth companies can benefit significantly from these efficiencies, allowing them to focus on core business activities and scale their operations.
6. Scalability and Flexibility: DAM systems are designed to scale as businesses grow. Whether it's an expanding asset library or adding new teams or departments, DAM solutions can accommodate the evolving needs of a growing organization. Cloud-based DAM solutions offer scalability advantages, allowing businesses to adjust storage capacity and computing resources as required.
7. Collaboration and Brand Consistency: Effective teamwork is vital for growth companies and SMBs. DAM systems provide a centralized platform for teams to collaborate on assets, share feedback, and streamline workflows. This collaborative environment fosters better communication, improves decision-making, and ensures brand consistency across all digital assets. Consistent branding helps businesses establish a memorable and unified brand image, which is crucial for growth and customer loyalty.
8. Compliance and Security: DAM systems offer compliance and digital rights management features. These features allow businesses to control asset access, manage permissions, and protect sensitive information. Compliance with data protection regulations and copyright restrictions is essential for growth companies and SMBs, as they navigate legal requirements while expanding their operations.
9. Integrations and Plugins: with a central position in the digital ecosystem DAM offers a wide range of integrations and plugins for Adobe, Canva, Microsoft Office, webshops, CMS, ERP, PIM, etc. DAM can also provide a full API for companies and partners to build custom automation and integrations. This type of flexibility simplifies the software puzzle for growing companies.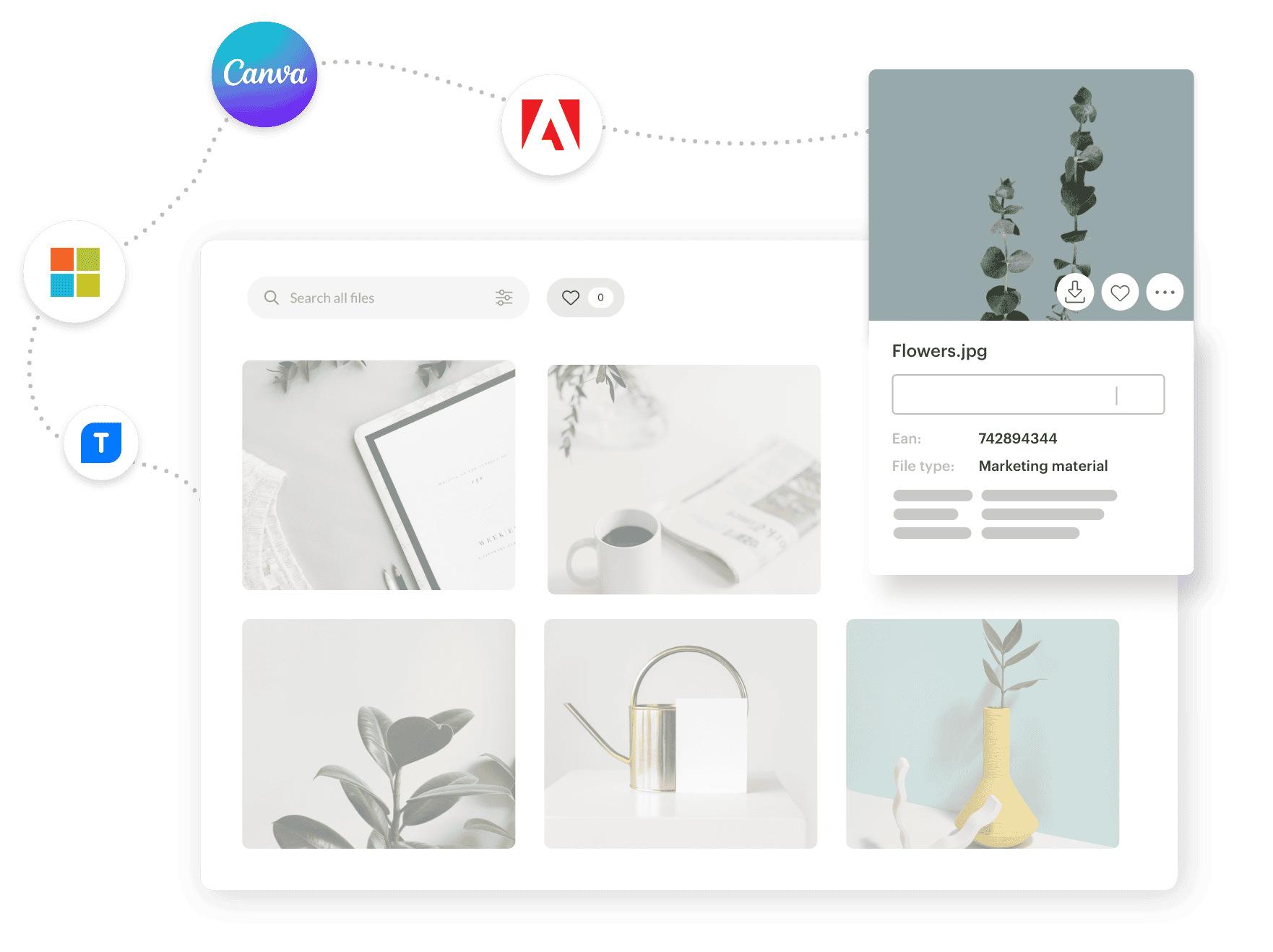 The Preference for DAM in Growth Companies and SMBs
DAM's extensive offering makes it the preferred choice for growth companies and SMBs seeking a holistic solution for their digital asset management needs. Unlike MAM, DAM caters to a broader range of assets, accommodating the diverse digital content that growth companies and SMBs generate.
When companies grow, they want to focus their energy where it counts—not looking through endless folders, searching for the thirty-fifth version of the new logo. Straight in, search, find and use that logo in the desired format with the click of a button – that's what they want. Automatic workflows and less hassle – that's what they need.
The scalability and flexibility of DAM systems align well with the needs of growing businesses. As companies expand their operations and asset libraries, DAM accommodates increased storage and user requirements. And as the business becomes more complex, DAM seamlessly adapts, automating procedures and integrating with other platforms added to the digital ecosystem.
A Comprehensive and Adaptable Solution
Digital Asset Management (DAM) is a more comprehensive solution than Media Asset Management (MAM). DAM's broad nature, scalability, automation, collaboration, and compliance features make it an ideal choice for growth companies and SMBs.
Powered by DAM, businesses can effectively manage all their digital assets, streamline workflows, enhance collaboration, and maintain brand consistency. As growth companies and SMBs strive for expansion and success in today's digital landscape, these tools unlock growth potential and help establish a coherent digital presence.
Usability is Key to Success
When choosing your DAM solution, look for a user experience that ensures successful implementation in your company. Kontainer DAM is perfect for growth companies and SMBs, offering a seamless brand experience and easy customization. The system's capabilities are focused on accessibility, security and elegant design.
Kontainer's intuitive interface is quickly adapted. Assets and data are easy to find and instantly share in any format. The system can store all file types and preview 100+ file formats. We have clients across industries and would love to show you how your peers use the platform. Book a demo meeting without any commitment. We'll let you know if Kontainer is the right solution for your needs.
Find out how to unlock your growth potential with Kontainer DAM; book a meeting here.